Jet x Foam 2% High Expansion 436879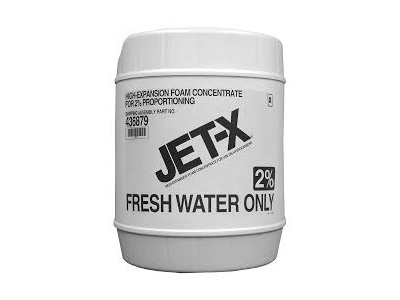 JET-X 2% High-Expansion Foam Concentrate is a tremendously flexible firefighting agent, used in fighting Class A, Class B, and LNG fires both indoors and outdoors. It is used only with airaspirating foam discharge devices except when used as a wetting agent on Class A fuels. JET-X 2% Concentrate, when used with high-expansion generators, is capable of totally flooding large rooms and enclosures allowing it to effectively extinguish horizontal and vertical (three-dimensional) fires. High-expansion foam is also effective in reducing vapor concentrations downwind from unignited LNG and other hazardous low boiling point gaseous products such as ammonia spills.
Approvals, Listings, and Standards JET-X 2% High-Expansion Foam Concentrate is designed in accordance with National Fire Protection Association (NFPA) Standard 11 for Low-, Medium-, and High-Expansion foam. The concentrate is approved, listed, qualified under, or meets the requirements of the following specifications and standards:
-UL Standard 139, High-Expansion Foam Liquid Concentrates
-FM Approvals – FM 5130
Download our datasheet below!