Dry Chemical Skid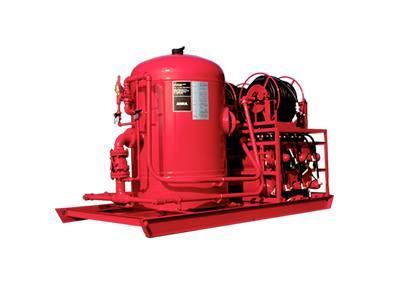 The ideal DRY CHEMICAL system should combine the flexibility of hand portable fire extinguishers with the power to knock down large Class B (flammable liquids and gases) and Class C (energized electrical) fires. Featuring large agent capacity and long discharge time, the Large Dry Chemical System offers the chance to use only the amount of agent necessary to suppress the fire. Plus, the tremendous dry chemical flow rate provides the power needed to fight three-dimensional fires and pressurized gas/liquid fires.
Available in capacities of 50 to 3,000 lb (22.7 to 1360.8 kg), the system is especially effective in areas where hand portable and wheeled extinguishers may not typically provide sufficient capacity. Manual hose-line units are recommended in cases of large fires that are extremely hazardous and demand immediate knockdown ability; limited manpower; remote locations; and multiple hazards.
Download our datasheet below!